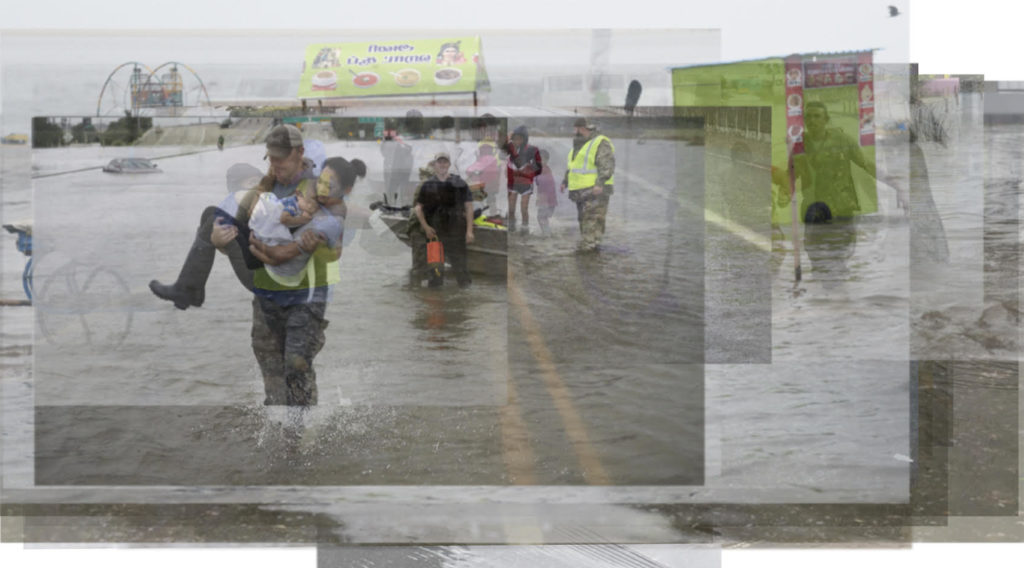 I recently saw FLOOD, a video installation by Deborah Oropallo and Andy Rappaport at the Catharine Clark Gallery in San Francisco. Oropallo is one of my favorite contemporary artists; I've been following her work since the early 1990s, when her paintings were actually made of oil on canvas. However, even then she was not a traditional painter – her conceptual bent has always been strong, and she often used silkscreens, rollers, and other tools in lieu of brushes. Her work has continually evolved, building on previous ideas while taking in new techniques and technologies. Since 2000, she has been utilizing digital imagery, which she manipulates on a computer and often works into on the canvas or paper itself. In 2017, she began collaborating with Rappaport on video projects which retain her painterly aesthetic without, obviously, being made with any paint at all.
Oropallo and Rappaport have been working with the theme of climate change and its impact on our population. Between 1995 and 2015, 2.3 billion people worldwide were affected by flooding. In this incarnation, FLOOD consists of three video screens, set in line horizontally, showing still images culled from internet news sources. Flooded streets appear and are gradually overlapped by photos of people in the deluge. The images continue to accumulate, the waters continue to rise, and the frame fills with more and more people. Rappaport's score builds along with the images, from the musique concrète sounds of water to a pulsing beat – the impact of the whole is hypnotic, poignant, and affecting – a poetic call to action.
I'm not very learned re video art, but, as always, Oropallo excels here. The layering/montaging in the video is an extension of what she does so brilliantly in her paintings, expanded to epic proportions through the added dimension of time. Over the course of about twenty minutes, hundreds of individual images are seen. In this age, when information is so quickly forgotten in favor the next new story, to spend that amount of time contemplating a single subject is nothing short of revolutionary.
FLOOD will be on view through Saturday, March 28 – spare no pains to see it.