Out and About – Archival Gallery will present the group show "Galerie Macabre," a celebration of the dark autumn, from Oct. 8-31.
The gallery, located on Folsom Boulevard in East Sacramento, will be transformed into a haunted house (suitable for all ages) with spooky work by Paul Basye, Robert Bowen, Carrie Cottini, Corey Okada, Kellie Rains and more.
There will not be a public Second Saturday reception, but visitors are welcome during normal business hours with no appointment needed. Masks are required. For more information, visit Archival Gallery.
~ Jessica Laskey / Inside Sacramento; October 2020.
---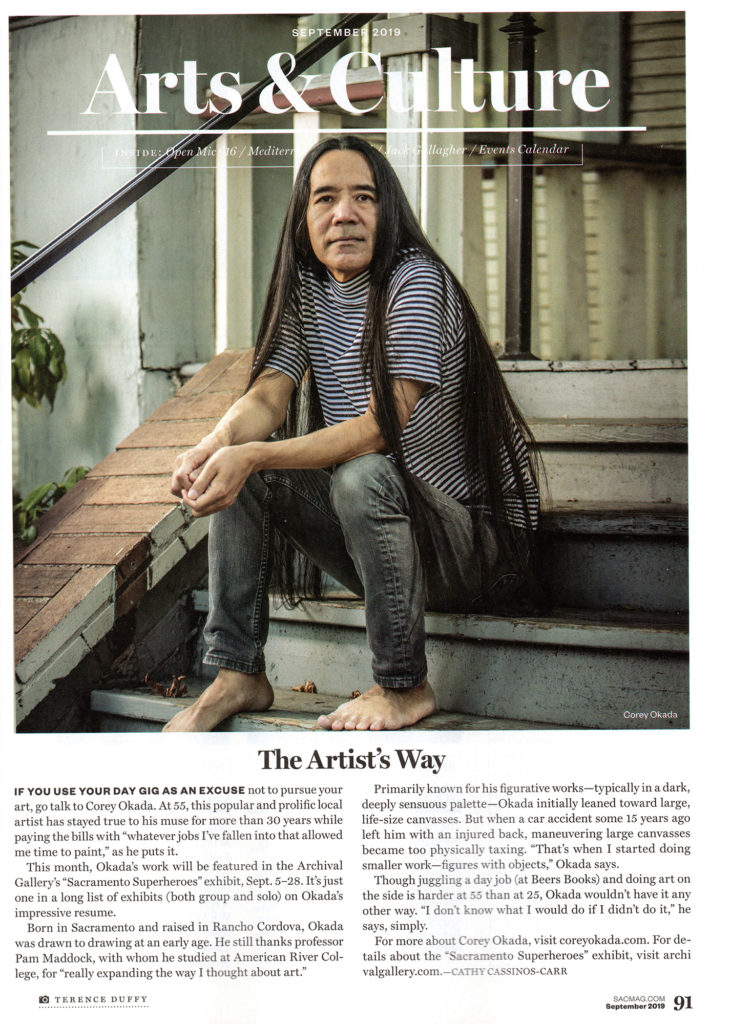 The Artist's Way – If you use your day gig as an excuse not to pursue your art, go talk to Corey Okada. At 55, this popular and prolific local artist has stayed true to his muse for more than 30 years while paying the bills with "whatever jobs I've fallen into that have allowed me time to paint," as he puts it.
This month, Okada's work will be featured in the Archival Gallery's "Sacramento Superheroes" exhibit, Sept. 5-28. It's just one in a long list of exhibits (both group and solo) on Okada's impressive resume.
Born in Sacramento and raised in Rancho Cordova, Okada was drawn to drawing at an early age. He still thanks professor Pam Maddock, with whom he studied at American River College, for "really expanding the way I thought about art."
Primarily known for his figurative works – typically in a dark, deeply sensuous palette – Okada typically leaned toward large, life-size canvasses. But when a car accident some 15 years ago left him with an injured back, maneuvering large canvasses became too physically taxing. "That's when I started doing smaller work – figures with objects," Okada says.
Though juggling a day job (at Beers Books) and doing art on the side is harder at 55 than at 25, Okada wouldn't have it any other way. "I don't know what I would do if I didn't do it," he says, simply.
~ Cathy Cassinos-Carr / Sacramento Magazine; September 2019.
---
Finished works – Sacramento painter Laureen Landau died in 2009, but now, thanks to her friends and artistic peers, her legacy continues. D. Oldham Neath, owner of Archival Framing and inheritor of Landau's home, found unfinished works in the late painter's studio and paired up these pieces with (mostly) local artists for a posthumous collaboration.
One of the artists, Corey Okada, who met Landau in 1996, said, "Our artistic sensibilities and tastes were similar, which is so rare I can't even begin to say how much I appreciated knowing her. … She is someone for whom I had, and continue to have, a great deal of respect."
Looks like he's not the only one: Some of the other collaborators include Robert Bowen, Gary Dinnen, Fred Gordon, Jack Ogden, D.L. Thomas, Ken Waterstreet, and Maria Winkler.
~ Shoka Shafiee / Sacramento News & Review; April 11, 2013.
---
ART – Over the years, the member's-only historic Sutter Club, established in 1889, has been hosting smaller exhibition for local artists. This month, in association with the Thomas A. Oldham Gallery, the club presents the works of figurative painter Corey Okada, and in cooperation with Michael Himovitz Gallery, sculptor and antiquities restorer Al Farrow.
Okada has mostly been painting figurative works since 1980. His usually female images evoke fey romantic feelings with occasional dark, gothic implications. The works' themes have varied over the years, but there is always a sensuous aura about them and at times, a subtle to outright erotic seductiveness. Painterly veils of color envelope the women, producing a type of visual humidity, softly focusing clarity as if Okada used a camera instead of a paint brush to render their classic exotic beauty.
In this show, however, most females in the paintings are rendered sharply and appear outright illustrative. Okada's color palette has still kept its overall dark range but bursts with warm shades of deep pinks, mauves, fiery oranges and yellows that vary in intensity like lit flames at different degrees of heat. His new difficult vertical format of 18 by 42 inches is extremely challenging visually and technically, placing the human form, sometimes contorted, comfortably inside an incredibly uncomfortable box — like a coffin. The fairly dark backgrounds only add to the women's sexual appeal as luminous skin, sometimes only implied hair, damp lips and especially moving eyes pierce the canvas' surface to look out at the viewer.
~ Kimi Julian / Sacramento News & Review; May 13, 1999.
---
COMING ABSTRACTIONS
Showing his vibrant oil abstracts in a local gallery—much less selling them at up to $1,5000 apiece—was the last thing 25-year-old Sacramento artist Corey Okada expected.
Though he's more amused than surprised by his recent notoriety, saying he paints purely for pleasure, the soft-spoken Okada has splashed into the art community, first with graphite drawings at the '87 Crocker-Kingsley show, and at the Accurate Art Gallery in last year's citywide "Introductions '88" exhibition. This month, Okada returns to the Accurate with a new crop of wild figurative abstracts, including "Kimberly Says" and "Winds Across the Hands of Fate."
But what the viewer sees is not what the artist sees. Okada's acute red-green color-blindness requires an assistant to assemble his palette, and leaves art watchers amazed at his kaleidoscope-like use of color.
An art student several years ago at American River College, Okada has since crafted to perfection more than just his paintings—pastries, to be precise. Toiling as the head pastry chef as Celestin's restaurant on J Street, Okada spends nearly all of his time out of the kitchen in the studio.
Another local arts event this month will present up to 40 local artists opening their studios to the public in the Matrix Gallery's Annual Studio Tour October 15. It's a chance for the public to sample artwork in its formative stages. For details on Okada's show and the studio tour, see Art and Special Events.
~ Jeff Davis / Sacramento Magazine; October 1989.
---
Grand Opening Group Show
Former Archival Framing Expands Into New Oldham Gallery
"Everyone in the Gallery Association is doing better now than two years ago," says D. Oldham, proprietor of the new Thomas A. Oldham Gallery in midtown. "With the death of Michael Himovitz and the loss of the Weintraub gallery, the last two years were a bleak period.

"But things are looking up now. The Phantom Galleries have added a great deal of excitement to the scene, and despite the loss of the Dean Moniz Gallery, galleries aren't opening and closing the way they once were.
"People who are in the gallery business now are serious about what they are doing. They've dug their heels in and are ready to starve for a while until their galleries catch on."

Oldham probably won't have to starve too long. Her new gallery, named for her late father, occupies the same space as the Archival Framing Gallery, in which she was a partner. The framing part of the business will continue to help support the gallery, But the gallery, which once sported frame samples on the wall, has a new, elegant look. The framing business has a separate entrance, while the remodeled gallery has more than twice the exhibition space it had before.
 Filling the walls for the grand opening is a group show featuring works by artists who will have solo or two-person shows in the future. Most of the artists included were regulars at the Archival Gallery, so there are few fresh faces. One exception is J.C. Landgraf, who exhibits an altar-like assemblage of tiny figures with birds' skulls for heads, titled "El Teatro Morbido Presents Faust." It's a lively and imaginative work. 
Also appearing is "Fire at the Farmhouse," a small assemblage by 14-year-old high school student Anthony Cannon Walker, which combines nostalgic elements (an old photograph, a string of pearls, dried flowers) with expressionistic painterly markings.

I also liked Kellie Kolenski's sculpture, "Faith," a white stake covered with words topped by an altar-like appendage which opens on an antique photograph of a young girl in her communion dress.
Of the Archival regulars included, Corey Okada and Patricia Altschul stand out. Okada offers a dark and disturbing drawing of a skull being cradled in a woman's arms. Altschul gives us a pair of paintings of birds perched on telephone wire that are remarkable for their delicacy and sensitivity. The richly textured yet spare images seem to emerge from light. 
~ Victoria Dalkey / The Sacramento Bee; March 24, 1996.
---
The Fourth Annual Erotica Art Show and Costume Ball
Corey Okada's exquisite untitled painting depicting a pair of hands stroking a string of pearls – possibly the best work in the show – is beautiful proof that erotica is not limited to sculptures of genitalia or pictures of people copulating.
~ Emma Brecain / On the Town; November 11-25, 1996.